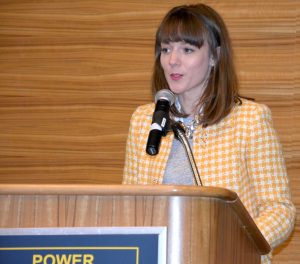 Ethanol is a growing industry in the U.S. providing Americans with renewable fuel at the pump. They are also helping to meet growing global demand for food and fuel. U.S. Grains Council (USGC) Director of Industry Relations Lyndsey Erb gave attendees of the American Coalition for Ethanol's annual Ethanol Conference an update on how the organization is assisting the U.S. ethanol industry with ethanol and co-product sales of DDGs around the world in her presentation, "Developing Export Demand for Ethanol and DDGs."
The top four markets for exports are China, Mexico, India and Japan. Looking at early 2016 numbers, Erb said this should be the 4th highest export year on record. USGC continues to find new markets and in addition to Mexico, Southeast Asia is another key area.
For example, the region is developing its aquaculture market and Erb said they are conducting multi-year pilot programs on using DDGs as fish feed. One area of concern was to see if the flesh turned color. Erb said it didn't and the programs have been successful and she expects the use of DDGs in the aquaculture market to grow.
Another area where USGC has been working on behalf of the ethanol industry has been China's anti-dumping case. Erb just returned from Beijing where they heard comments and said that one person came forward and said he needs access to the market as have producers in the past. So, said Erb, this is good for the ethanol business. In terms of next steps, there will be mandatory reporting with a five-tier rate level put into place with rates highest for non-reporters. Next, there will be verification process and Erb said officials will come to the U.S. Finally, a final determination will be filed next year, sometime between January-June.
"They've taken a hammer to a problem that needs a scalpel," said Erb. "Keeping U.S. DDG's is not going to help them with their food security." Ultimately, Erb believes duties will be put into place.
Listen to Lindsey Erb's full presentation here: Developing Export Demand for Ethanol & DDGs
Want to learn more about exports? Then be sure to attend the upcoming Export Exchange conference taking place in Detroit, Michigan October 24-25, 2016. Click here to learn more.