One theme for the very successful ethanol NASCAR race weekend at Iowa Speedway was #4Enogen4Energy – or seeing in action Syngenta's commitment to the American ethanol industry and to American farmers. To learn more about Syngenta's work in the ethanol industry and how it ties to innovative seeds for corn farmers, Chuck Zimmerman spoke with Ponsi Trivisvavet, president of Syngenta seeds in North America. This the fourth year of Syngenta's sponsorship of the race known as the American Ethanol E15 250 presented by Enogen.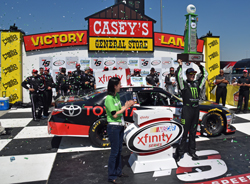 It's been a successful program according to Trivisvavet, but this year has been the most successful. Why? Farmers from across the Midwest descended to the Iowa Speedway and on Saturday night Trivisvavet said there were more than 600 growers spending time with Syngenta in their hospitality tent while on race day the number was well over 1,100.
"This is about ethanol. This is about farmers. This is about agriculture. And this is about ethanol and agriculture marrying together," Trivisvavet noted.
In terms of using the race as a marketing platform for Enogen and Cellerate, Trivisvavet said this event is very critical for them. "The event itself is not about marketing. It's not about sales. It's about the long-term relationship we have between Syngenta and our customers and our customers and the ethanol industry. We have been investing significantly in our product Enogen and how we can turn around the whole market to look at the benefits and how we can help increase the yields of ethanol plants. So that is something we are really proud of."
Trivisvavet added that the weekend was also a way to say thank you to Growth Energy, ethanol plants, farmers and all the people supporting them.
To learn more listen to Chuck's interview with Ponsi Trivisvavet here: Interview with Ponsi Trivisvavet, President, Syngenta Seeds North America
You can find lots of photos from Iowa Speedway race weekend here: Enogen Syngenta NASCAR Photo Album