The American Ethanol E15 250 presented by Enogen took the Iowa Speedway by storm this past weekend and one of the hot topics: E15. Syngenta hosted a press conference to educate the racing media about the benefits of E15, including the amazing fuel benefits of the high octane fuel. Following the briefing, Chuck Zimmerman was able to catch up with Jack Bernens.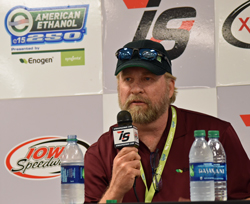 "We're here because we feel really strongly about the ethanol industry, and we're developing products to make the ethanol industry more efficient and than it already is, which it's very efficient," Bernens told Zimmerman during an interview.  "So we've developed products like Enogen, which are corn hybrids that are specifically designed for the ethanol industry to make those ethanol plants more efficient."
"The farmer gets a play in that because he's actually producing the corn that contains the Enogen enzyme marked for the ethanol corn plant. The ethanol corn plant becomes more efficient and the unity benefits from both of them putting more in to their pockets. So we like to say the ethanol plant wins, the farmer wins and the local community wins. And it's really all about sustainability and how do we get more out of every kernel of corn that is processed, Bernens added.
Bernens noted that his company believes that a company should never stop innovating. Quad County Corn Processors was one of the very first plants to start innovating with Enogen technology back in 2012. They had developed a process to turn the fiber into of the corn kernel into cellulosic ethanol, coined Cellerate. Syngenta thought the process was innovative and Bernens said when they looked at what would happen if they combined Enogen it became one plus one equals three. Syngenta was so impressed they took an exclusive license to market the technology. Today, the Cellerate technology is producing about six percent more ethanol out of the same kernel of corn, and when you combine it with the Enogen technology, that plant is getting around 20 percent more ethanol output from the same amount of corn.
To learn more about Enogen and Cellerate technologies, listen to Chuck Zimmerman's interview with Jack Bernens here: Interview with Jack Bernens, Syngenta Enogen
You can find lots of photos from Iowa Speedway race weekend here: Enogen Syngenta NASCAR Photo Album