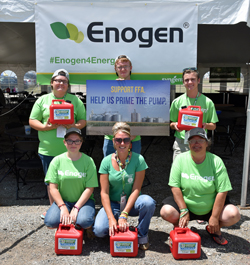 The Twin Cedars FFA Chapter was out in en mass during the recent American Ethanol E15 250 presented by Enogen to educate race fans about ethanol and E15. Chuck hung out with the high school students and their advisor for a while over the weekend to learn why they wanted to be a part of the race weekend.
Mrs. Johnson, who is an Ag Ed instructor and supervisor for the Twin Cedars FFA Chapter out of Bussey, Iowa, said that for the past several years, their FFA Chapter has been partnering with Syngenta during the American Ethanol E15 250 presented by Enogen race weekend to go around and speak with fans about E15. They also raise money to assist the industry with increasing fuel infrastructure for mid-level and higher blends of ethanol. And, she said, for every dollar they raised Syngenta matched with a dollar. Syngenta also donated a percentage of the funds to help support their FFA Chapter.
Chuck asked the high school students what got them interested in being at the races and they all said it was a great way to raise money for their chapter.
To learn more, listen to Chuck Zimmerman's interview with the Twin Cedars FFA Chapter here: Interview with Twin Cedars FFA Chapter
You can find lots of photos from Iowa Speedway race weekend here: Enogen Syngenta NASCAR Photo Album