Joe Jump is an organic chemist who has been working for Novozymes for 15 years. However, for the last six years he has worked in Research & Development making new enzymes applications and yeast applications for biofuels. Jump presented a session during this year's Fuel Ethanol Workshop (FEW) that focused on applications for ethanol producers who are producing dried distillers grains (DDGs).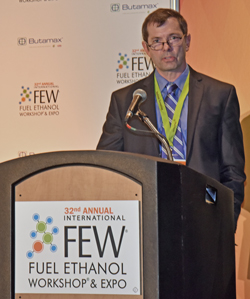 "DDGs are a great co-product for ethanol producers and we're trying to make it even better by taking a certain component of it, the fiber fraction, and trying to upgrade it so monogastrics can uptake its nutrition much better than it currently does, which is basically none," explained Jump. "We have some enzyme lead candidates we'd like to scale up and test into the biofuels process."
So what will this new enzyme technology mean for ethanol producers?
"It's really about them [ethanol producers]. So if we can help them make money, in this case upgrading DDGs for our producers will allow them to have a lot more opportunities in the monogastric area. Currently there is not much they can add to a monogastric feed ration because of the fiber component. It kind of gets in the way." So, explained Jump, if they can nutritionally enhance the DDGs using enzymes, producers will be able to have more inclusion rate for DDGs rations.
Jump said that this emerging technology is in early stages but they wanted to share it with the industry so they were aware of Novoymes' commitment to creating new products for their customers, whether it be short-term or long-term opportunities.
To learn more about this emerging technology, listen to Chuck's interview with Joe Jump here: Interview with Joe Jump, Novozymes
You can find photos from the 2016 FEW here: 2016 FEW Photo Album