Earlier this year, Tina Sejersgård Fanø assumed the role of executive vice president for Novozymes Agricultural and Bioenergy division. Part of this division, she said, is their biofuel business and that biofuels are a big and very interesting business for them. This is Fanø's first time at the Fuel Ethanol Workshop (FEW) and Chuck Zimmerman was able to speak with her about Novozymes' approach in the current market.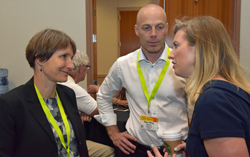 The company has clients across the globe and Fanø said the largest number are based in the U.S. "We know that the market for ethanol producers is very competitive, and what we want to secure is that we can do whatever we can to help producers increase their market in advancing their business."
This said, they work closely with their clients to get to know their business. Novozymes offers educational opportunities such as Bioenergy University so the company can better advise them on such things as how they can improve their business margins, increase ethanol yields, reduce the use of chemicals and more. Ultimately, says Fanø, they work on creating solutions that are specific for their customer's needs.
"It's all about helping our customers succeed," stressed Fanø. "I'm especially thrilled with our Bioenergy University because it helps our clients get better at what they do, and try to put more education behind that small piece of the whole puzzle we are helping with."
To learn more about Novozyme's biofuel business, listen to Chuck's interview with Tina Sejersgård Fanø here: Interview with Tina Sejersgård Fanø, Novozymes
You can find photos from the 2016 FEW here: 2016 FEW Photo Album