Several ethanol industry leaders testified today during the Energy and Power Subcommittee's hearing on the Renewable Fuel Standard (RFS). The EPA recently released its proposed rules for 2017 and 2018 and while the biofuel industry wants to see higher blending volumes, Big Oil wants to see lower blending volumes, says the ethanol industry, because the energy program's continued implementation would mean further loss of market share.
According to the ethanol industry, the RFS has been an unmitigated success and repealing or dramatically reforming the program will reverse the gains already made under the program such as the reduction of dependence on foreign sources of oil and the reductions in carbon emissions. Modifying the RFS backward would also, says the ethanol industry, devastate investment in next generation biofuel technologies and halt progress.

According to the Renewable Fuels Association, (RFA), in 2015, 14.8 billion gallons of ethanol was produced, supporting 85,967 direct jobs, while net petroleum import dependence fell to just 25 percent, and would have been 32 percent without the addition of domestically produced ethanol. In addition, RFA says the use of ethanol in gasoline in 2015 reduced greenhouse gas emissions from transportation by 41.2 million metric tons — equivalent to removing 8.7 million cars from the road for an entire year.
Dinneen said during his testimony, "The incumbent industry has already lost 10 percent of the market. If the RFS is implemented consistent with the statute, the market will make the final push to see cellulosic ethanol and other advanced biofuels to fruition, resulting in the loss of 30 percent of the market. It is important to note that Congress did an excellent job of crafting the RFS, building in a great deal of administrative and market flexibility to deal with issues as they arise," Dinneen told the subcommittee. "You wrote a good law in 2005. Don't be bullied by the hyperbole and scare mongering by the incumbent industry that fundamentally disagrees with the need for alternative, low carbon options for consumers.…[T]here is nothing wrong with the RFS that cannot be fixed with what is right with the RFS, and there is no need to legislate changes to a program that is working well today."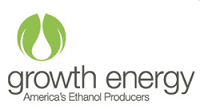 New Growth Energy CEO Emily Skor, who keynoted the opening day of the Fuel Ethanol Workshop (FEW) yesterday, also submitted testimony for the official record. "…We urge the Environmental Protection Agency (EPA) to keep the RFS moving forward, and this committee to work towards fixing the actual issues standing in the way of full implementation. However, the regulatory hurdles and market barriers to entry that impact the E15 marketplace are not being discussed at today's hearing. E15 is a less expensive, high performance fuel, but unlike E10, it cannot be sold during the summer driving season due to a 26 year-old legislative oversight in the Reid Vapor Pressure (RVP) statutory restrictions. Legislation has been offered in the House of Representatives to fix this problem (H.R. 1736) and this committee should spend time considering how to address this issue…"