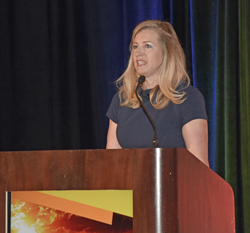 Giving the keynote speech at the 2016 FEW today is Emily Skor, the new CEO for Growth Energy. It is Emily's first FEW and she gave a very consumer-focused speech spending time making a case for evangelizing to a new generation of consumer. Here are a couple of excerpts from her remarks.

The value of your contributions — creating the next generation of fuel to power our lives, protect our families, and clean our air — cannot be over-stated.
Each and every one of you here today is a part of America's most dynamic and forward-looking industry. And I'm honored to be part of it.
In such a close-knit community, I know it might be unusual to see a new face at this podium, let alone taking the helm of Growth Energy.
But as those who know me best will tell you, I couldn't be more excited or ready to take on the challenges we face and provide a new generation of leadership for this new generation of fuels.
As Growth Energy's new CEO, my top goal will be to bring those messages into conversations at every town hall, gas station, legislative hearing and kitchen table in America.

You can listen to Emily's speech here: Emily Skor, Growth Energy, Speech
You can find photos from the 2016 FEW here: 2016 FEW Photo Album