Cody Snyder, technical services manager for Enogen with Syngenta, expressed his concern to the EPA panel recently during the hearing on the proposed Renewable Fuel Standard (RFS) rules for 2017-2018. He began by stressing that a cut in the proposed corn-ethanol volumes will have a negative effect on rural economies. He noted that Syngenta, one of the globe's largest companies, has one clear purpose: bringing plant potential to life. Snyder said improving crop protection and productivity while improving sustainability are key elements of their products, and their commitment to biofuels has demonstrated these objectives in action.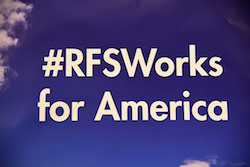 "Syngenta has demonstrated its commitment to the cellulosic industry through the development of Enogen corn enzyme technology and its partnership with Quad County Corn Processors and their state-of-the-art Cellerate process. Enogen is a perfect example of what the RFS has enabled through private investments of biofuels. Our company has dedicated hundreds of millions of dollars to the development of this revolutionary technology and its proven to provide a premium back to the farm economy and deliver unparalleled environmental benefits to the ethanol production process."
He continued, "Trial results have concluded that for a 100 million-per-gallon ethanol plant, Enogen corn enabled efficiency improvements and saved more than 68 million gallons of water, nearly 10 million kilowatts of electricity, and more than 300 million btus of natural gas reducing carbon dioxide emissions by more than 100 million pounds…This partnership has enabled Syngenta to deliver innovation to the RFS, especially the RFS2," Synder testified.
To learn more about Syngenta's commitment to the ethanol industry and providing American's homegrown renewable energy, listen to Cody Synder's entire testimony here: Cody Synder, Syngenta, testimony at EPA hearing
Coverage of EPA RFS Hearing made possible by