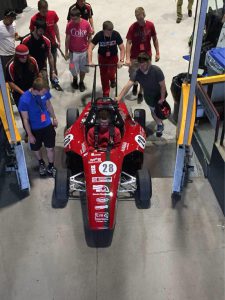 Formulae SAE is racing into Lincoln with some of the racecars fueled by ethanol. Universities from around the world will race their custom Formula-style cars at Lincoln Air Park June 15-18, 2016 during the Formula SAE series. One of the competitors is the Husker Motorsports team that is being sponsored by the Nebraska Ethanol Board (NEB) and races on E85 (85 percent ethanol and 15 percent unleaded gasoline). The teams have a choice to use E85 or unleaded gasoline.
"E85 provides several technical advantages over gasoline," said Charles Lee, a junior mechanical engineering major and the team's lead powertrain engineer. "The high 'latent heat of vaporization' of ethanol creates a cooling effect to the combustion process, and the high octane rating makes E85 the ideal choice for an efficient, powerful engine. Aside from the technical benefits, we use E85 to help support Nebraskans."
The Lincoln Formula SAE competition started in 2013 with only seven teams in the combustion category competing with E85. This year, 20 cars will race with E85 in their tanks.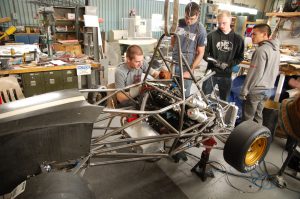 "Higher ethanol blends have become widely accepted as racing fuels, and it's great to see students from across the world choosing to race on E85," said Megan Grimes, Nebraska Ethanol Board public relations coordinator. "The cleaner-burning, higher octane benefits of ethanol is why NASCAR now races on E15."
This year's competition will include 100 teams – 80 combustion and 20 electric – from all over the world. According to James Peck, a senior mechanical engineering major and the team's project manager, the size and diversity of the event makes it a great experience.
"Although we're competing against one another, the atmosphere is always friendly and helpful," he said. "Everyone is willing to talk about their car or help by lending tools, parts and materials. It's an honor being the host team because we represent our sponsors locally and university fans can come watch the race."