Ethanol advocates called on the U.S. Environmental Protection Agency (EPA) to increase ethanol and other biofuel volumes in next year's Renewable Fuel Standard (RFS) today. Fuels America held a press conference with several leading biofuel advocates that was kicked off with comments from Nebraska Governor Pete Ricketts, a long-time and vocal ethanol opponent.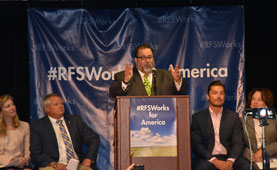 "A strong RFS means more jobs here at home, greater energy security, and a cleaner environment," said Gov. Ricketts. "The biofuels industry supports more than 852,000 American jobs and creates fuel we need to help our country become energy independent. It also stimulates investments in states like Nebraska, where we are on the forefront of research, development, and infrastructure for first- and second-generation biofuels."
Renewable Fuels Association (RFA) President and CEO Bob Dinneen continued the ethanol success story by discussing how the RFS is the country's most successful energy policy of all time. "The EPA's proposed targets would needlessly undermine America's most successful clean energy program," said Dinneen. "At a minimum, we must hit the statutory levels set by Congress to slash U.S. dependence on foreign oil, reduce greenhouse gas emissions and save consumers money at the pump. From any objective standpoint, the choice should be simple – more clean, American energy and less foreign oil."
New Growth Energy CEO Emily Skor has hit the ground running and focused her remarks on the environmental benefits of biofuels. "Our call to action has never been more important," said Skor. "Ethanol is an earth-friendly biofuel that reduces greenhouse gas emissions and displaces chemicals in gasoline that form potent carcinogens when burned. Most importantly, ethanol offers consumers affordable options and a choice at the gas pump. It's vital that the EPA meet the statutory biofuel targets for America's 2017 fuel mix."
While Chip Bowling, a long-time Agvocate and president of the National Corn Growers Association (NCGA) stressed the effect the RFS has had on farmers and their commitment to increasing ethanol fuel choices at the pump. "Farmers, along with the ethanol industry and U.S. Department of Agriculture, have invested millions in new ethanol pumps and fuel infrastructure so that drivers can access affordable, renewable fuel choices," said Chip Bowling, president of the National Corn Growers Association. "Now it's up to the EPA to deliver on its promises. We have the resources to meet all our needs, spur investment in rural communities, and create more high-tech jobs."
Listen to the full press conference here: Fuels America RFS Hearing Press Conference
Check out the EPA Hearing Photo Album.
Iowa farmer and reality TV star Chris Soules continued the conversation about the importance of the RFS to farmers. "The ethanol market provides financial stability to our family farm and guarantees that we can pass on our traditions to future generations," said Soules. "American consumers are winners from this policy,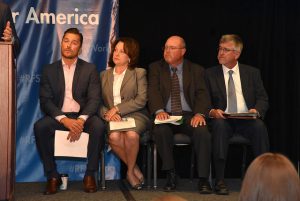 too. Protecting choice at the pump means offering consumers a clean, homegrown, and less expensive product. Ethanol emits 40-90 percent less carbon emissions than the toxic additives it replaces in gasoline. I urge EPA to issue a final rule at statutory levels to keep this policy on track."
Richard Fordyce, Missouri director of agriculture noted, "Missouri is the proud home of six majority farmer-owned ethanol plants, providing a vital market for our crops and affordable fuel options to our consumers. As a fourth-generation farmer, I know how important these jobs are to our community. It is vital that the EPA aim higher to ensure the continued growth of America's domestic energy supply, protect economic growth, and meet the environmental objectives of the RFS."
Annette Sweeney, Iowa farmer and former state representative added, "By protecting America's domestic energy producers from manipulation, the RFS allows communities in the heartland to flourish. Thousands of family farms like mine are helping to provide consumers with clean, affordable options that saved drivers anywhere from $.50 to $1.50 a gallon when prices last peaked. The time is right to move forward, not backward."
With summer in full swing, a hot topic has been the use of ethanol in marine engines. Brian Sowers, co-host of Crappie Masters TV dispelled the myth that ethanol is harmful to boat engines. "One hundred percent of the winners on our tournament trail use an ethanol blend in their tanks because they take pride in using the best equipment and the best fuel. For many anglers, having better choices at the fuel pump is all about protecting lakes, rivers and other recreational waterways. Ethanol helps to reduce the pollutants that fossil fuels leave behind, preserving the environment and marine life for future generations to enjoy."
Supporters who could not testify at the hearing are urged to submit comments to the EPA by July 11, when regulators will start writing a final rule.
Coverage of EPA RFS Hearing made possible by