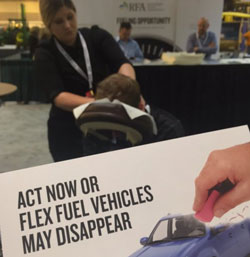 Visitors to the 2016 Commodity Classic had the opportunity to voice their support for Flex Fuel Vehicles (FFVs) and relax their aching muscles at the same time at the Renewable Fuels Association (RFA) booth.
It was the first opportunity for RFA to get their recently launched "Flex My Choice" campaign in front of the agriculture industry and Vice President of Industry Relations Robert White says many of the people they spoke to at Classic had no idea that auto makers were cutting their production of FFVs. "It doesn't matter what part of agriculture you're coming from, the phasing out or elimination of flex fuel vehicles will be devastating to the advancement and growth of our industry," said White.
Beginning this year, the fuel economy credits given to auto makers for building flex fuel vehicles were phased out. "Ironically, now we have incentives for natural gas vehicles, so we're encouraging fossil fuel usage over an alternative like E85," White said.
Classic attendees who visited the RFA booth were able to fill out post cards to be sent to the main three automobile manufacturers, as well as EPA. While doing that, they were also able to get a nice chair massage, which was welcome relief for many who spent the day walking through the huge trade show catering to corn, soybean, wheat and sorghum farmers.
Listen to Robert explain more about Flex My Choice in this interview: Interview with Robert White, RFA, at Commodity Classic