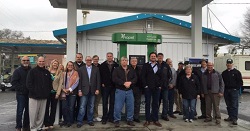 California has an ethanol industry that is growing in size and importance. That's why members of the National Corn Growers Association's Ethanol Committee went to Sacramento last week to meet with California regulators and ethanol industry representatives in this important market. This news release from NCGA says the meetings focused on existing market conditions, modeling to calculate greenhouse gas emissions and efforts being made to expand higher blends of ethanol at the retail level.
Anil Prabhu of the California Air Resources Board's Transportation Fuel Branch in Sacramento discussed the history behind CARB's carbon emissions scoring and the criteria contained in the current Low Carbon Fuel Standard. According to Prabhu, there is potential for improving the methodologies for the models CARB uses. The Ethanol Committee will continue to serve as a resource for CARB as they seek to improve their scoring methodologies.
"California's low carbon fuels standard presents an excellent opportunity for higher ethanol fuel blends to perform well in this market," said Ethanol Committee Chair Paul Jeschke. "Although there have been improvements made in the GHG number assigned to corn ethanol by CARB, corn farmers feel there is more work to be done in order for CARB to recognize the true benefits of corn ethanol under California's LCFS Program."
The committee also met with Tom Koehler of Pacific Ethanol and Rob Elam, CEO of Propel Fuels, to discuss the E85 marketing efforts these companies are using in California. Pacific Ethanol supplies ethanol to Propel Fuels which is the largest E85 retailer in California. Low carbon fuels are more affordable than gasoline in this market. However, only three percent of the available market is being served. The keys to Propel's success in capturing 75 percent of the current E85 market are ownership and maintenance of E85 infrastructure, extensive analytics and aggressive marketing to Flex Fuel Vehicle owners. After the presentation, the committee visited a retail station in a high FFV volume area where Propel has a canopy with dedicated pumps for higher blends.