Darin Schlapia from Farmers Cooperative Company based in Afton, Iowa and Kevin DeGoey from New Century FS in Grinnell, Iowa have won the Secretary's Biodiesel and Ethanol Marketing Awards by Iowa Secretary of Ag Bill Northey. The awards honor fuel marketers who have gone above and beyond in their efforts to promote and sell renewable fuels including ethanol and biodiesel. Activities include hosting special events such as pump promos, creative signage, and innovative marketing campaigns.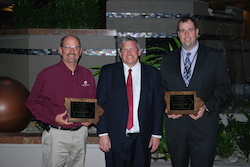 "New Century FS and Farmers Cooperative Company have made expanding access to renewable fuels a priority and invested in the infrastructure necessary to make variety of biodiesel and ethanol available to their customers. On top of that, they have worked hard to promote these home-grown fuels and educate their customers about the benefits," Northey said.
The winners were announced and recognized during the Petroleum Marketers & Convenience Stores of Iowa Annual Meeting in Des Moines on Jan. 12th.
Northey added, "Fuel marketers are the place where customers access the home-grown, clean-burning renewable fuels we produce here in Iowa. Our state is fortunate to have many retailers that have made a significant investment to give customers greater access to renewable fuels and more choice at the pump."
Kevin DeGoey, the Energy Department Manager for New Century FS in Grinnell is winner of the 2016 Secretary's Ethanol Marketing Award. New Century FS offers higher ethanol blends at their sites in Grinnell and Vinton and are working to add additional ethanol blender pumps as part of the Iowa USDA Biofuels Infrastructure Partnership program. They were an early adopter of registered E15 and are now one of 40 locations statewide offering this higher blend to customers. In the second year that E15 was offered at their facility in Vinton sales jumped 93 percent and now account for 27 percent of the fuel sales at that site.
Darin Schlapia with Farmers Cooperative Company in Afton is the winner of the 2016 Secretary's Biodiesel Marketing Award. Farmers Cooperative Company participated in the "Fueling our Future" pilot program to install one of the first biodiesel blender pumps in the state at their site in Mt. Ayr. That site offer offers #2 diesel, B11, B20, B30 and B99. As part of the "Fueling our Future" program, Schlapia and Farmers Cooperative Company worked with Iowa State University to evaluate consumer perceptions and the impact of increased assess to mid-level biofuels blending options, including impacts on improved air quality.