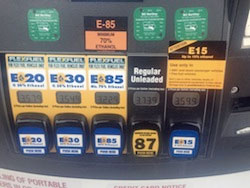 Iowa Secretary of Agriculture Bill Northey today announced that funds are now available through the new "Fueling Our Future 100" initiative and interested retailers in Iowa can apply for cost share funding to assist with the purchase and installation of blender pumps and underground storage tank (UST) infrastructure for higher blends of ethanol.
"We continue to see that when consumers have a choice at the pump they will choose to increase the amount of clean burning, homegrown renewable fuels they use," said Northey. "Through this program we will see a total investment of $10 million to help build the renewable fuels infrastructure in the state."
Iowa received a $5 million grant from the USDA Biofuel Infrastructure Partnership (BIP) program to support the initiative which will be matched by non-federal funds, including $2.5 million from the Iowa Renewable Fuels Infrastructure Program (RFIP). The fueling sites applying for assistance will also be required to provide a minimum of $2.5 million.
"Thanks to the USDA's blender pump program, Iowans will now be able to benefit from the wider availability of E15 and E85," said Iowa Renewable Fuels Association Managing Director Lucy Norton. "More blender pumps in Iowa means more competition at the pump, resulting in even lower fuel prices, better air quality and stronger energy security."
ProtecFuel and the IRFA will be hosting a free retailer workshop on Monday, December 7 from 10:00 a.m. to 2:00 p.m. to assist retailers in understanding and applying for grant funding. For more information and to register for the free retailer workshop, please visit: www.IowaRFA.org/ProtecWorkshop.