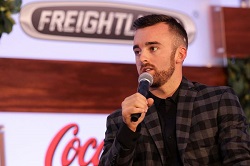 It's a big time of the year for race fans as NASCAR heads into the second round of it's championship series this weekend. And this news article from the National Corn Growers Association (NCGA) says American Ethanol is fueling that drive to the championship.
With E15 American Ethanol featured on the side of every car and on the start/re-start green flag, few sponsors in the sport have this broad exposure. It's a great place to be to show millions of fans that E15 works.
Only 12 drivers remain eligible and have a shot at winning the Sprint Cup trophy entering the Bank of America 500, which airs at 6 p.m. CT Saturday at Charlotte Motor Speedway. Like the other 32 drivers rounding out the field who are not Chase eligible, American Ethanol driver Austin Dillon continues to drive for his first win of the season.
Dillon, one of the hottest young drivers in the sport, has championships in the Camping World Truck Series and the Xfinity Series. As he closes in on the end of his second Sprint season he is driving to hone his skills and for pride.
Check your local radio and TV listings to follow all the action fueled by American Ethanol.