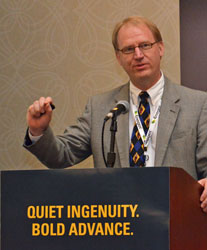 The still new CEO of the National Corn Growers Association (NCGA) addressed the American Coalition for Ethanol (ACE) annual meeting last week with strong message that they stand behind the industry all the way.
Chris Novak, who took over as NCGA CEO in October of last year, told the ACE members that the state corn grower organizations recently solidified their vision going forward and part of it includes the idea that the ethanol industry is part of feeding the world. "Because the by-products, the DDGS, that are coming through your plants contribute tremendous value and gains to the livestock industry," he said. "So, not only are you fueling America, you're also feeding America."
Novak talked about the latest crop production forecast from USDA for this year's corn crop, calling for the third largest crop in history, and how that makes the EPA's decision on the Renewable Fuel Standard (RFS) more important than ever. "Our primary challenge is the size of the corn crop and what we are going to do about that," he said. "We look at the EPA's decision with respect to the RVO (Renewable Volume Obligations) basically taking away about 1.5 billion bushels of demand over the next three years."
Depending on what EPA makes as a final decision in November, Novak says NCGA is already considering legal options. "Our board has … recognized that EPA violated the law, the statute is clear in terms of what the renewable fuel levels should be, and we think the methodology that the EPA chose is wrong – and so we are looking at what legal options we may have to continue to challenge that rule," said Novak.
Listen to Novak's address to ACE and an interview with him summarizing those remarks below –
NCGA CEO Chris Novak at ACE
Interview with NCGA CEO Chris Novak