The National Corn Growers Association (NCGA) has announced an additional $500,000 investment in Prime the Pump, a program that is expanding midlevel ethanol fueling infrastructure. The latest funds brings NCGA's annual commitment in the program to $2 million. The organizations overseeing the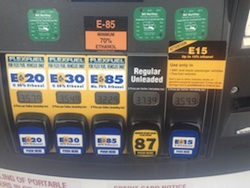 Prime the Pump program will use the monies as matching funds to secure grants under the U.S. Department of Agriculture (USFA) Biofuel Infrastructure Partnership. The USDA has allocated $100 million in grants.
"The nation's corn farmers have shown their commitment to domestically produced, clean burning ethanol repeatedly over the last 30 years and, when needed, have put their money where their mouth is," said Chip Bowling, president of NCGA and a farmer from Newburg, Maryland. "Consumers should have fuel options that include cleaner burning ethanol and this investment will allow us to continue to move forward toward that important goal."
Prime the Pump is aimed at retailers with high volumes and multiple locations. Retailers have to commit to a five-year marketing program, E15 must be offered at all dispensers under the canopy, signage on the street must include E15 and retailers must agree to actively promote the fuel.
"Big Oil and others opposed to ethanol keep setting up road blocks, so we need to work all the more to ensure domestic renewable ethanol moves forward," added Bowling. "Family corn farmers are faced with the lowest corn prices in more than a decade and increased ethanol utilization is an efficient way to turn that around and help the U.S. economy and environment at the same time."