In preparation for the Brazilian Sugarcane Industry Association (UNICA)'s bi-monthly harvest data, Platts survey has announced that sugarcane crush volumes in the Key Center-South region of Brazil in the first half of April are expected to total 13.10 million mt with a focus on ethanol production. The wider range of analysts' advance expectations for cane crush spanned from 10.2 million mt to 18.3 million mt.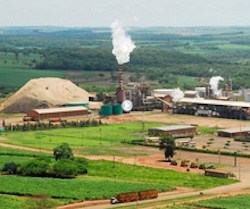 Analysts expect sugar mills to have focused on ethanol production, with ethanol representing 68.57 percent of the cane crush in the April 1- 15 period, with sugar at 31.43 percent. Cane yield measured by Total Recoverable Sugar (or ATR in Portuguese) was estimated by Platts sugar analysis and forecasting unit Kingsman* at 105.5 kg/mt.
Analysts anticipate the following: sugar production of 399,000 mt, total ethanol output of 637,000 liters, including 450,000 liters of hydrous and 187,000 liter of anhydrous ethanol. The strong focus on hydrous ethanol production is attributed to higher electricity prices from cogeneration, as well as more competitive prices at the pumps, which boosted demand.
Since the February reinstatement of Brazil's Cide tax on gasoline, hydrous ethanol consumption has boomed, increasing its share of total automotive fuel demand in Brazil to 29 percent, the highest since February 2011, according to data from the Brazilian Petroleum Agency.