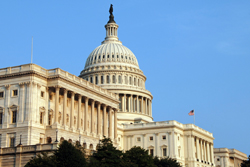 Ethanol and agriculture industry groups sent their own letter to House Appropriations leadership in response to a group of lawmakers calling for the elimination of funding for blender pumps or corn ethanol export promotion.
The letter signed by the Renewable Fuels Association, American Coalition for Ethanol, National Farmers Union, National Corn Growers Association, and Growth Energy calls on the subcommittee to "vehemently oppose and reject any efforts to include such limiting language" in FY 2016 appropriations for USDA.
It is important to note at the outset that there already exists a prohibition on the US Department of Agriculture using grant funds for the installation of blender pumps, which was included in the recently passed Farm Bill. Now, in a blatant effort to shelter the oil and gas industry from any further competition from ethanol, Representatives Goodlatte, et al. are seeking to place limitations on the U.S. Department of Agriculture's efforts to help promote the consumption of American made ethanol at home and abroad; something that agency has been successfully doing with other agriculture and livestock products for decades.
Reps. Bob Goodlatte (R-VA), Peter Welch (D-VT), and Jim Costa (R-CA), claim in their letter that the government has created an "artificial market" for ethanol that is "negatively impacting American consumers, livestock farmers, food producers, retailers, air and water quality, and the ability to feed our nation's hungry." The ag and ethanol groups responded that "corn prices today are below the prices witnessed in 2007 when the Renewable Fuel Standard was expanded and livestock feed costs are at their lowest levels in more than five years…Meanwhile, consumer food prices have advanced more slowly since passage of the RFS than in the 25 years prior to its enactment."