A report critical of corn-based ethanol is being blasted by groups representing the corn and ethanol industries as being the same old arguments that have been roundly rejected and criticized by the scientific community and disproven by the empirical data, as well as smacking of Big Oil's efforts to discredit an American success story. The National Corn Growers Association (NCGA), the Renewable Fuels Association (RFA) and Growth Energy all released statements critical of "new" research from the World Resources Institute, where Tim Searchinger and Ralph Heimlich re-hash their already disproven theories of "food vs. fuel" and "Indirect Land Use Change."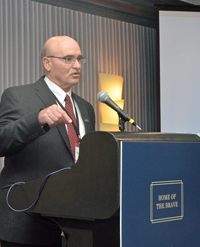 South Dakota corn grower and a member of the Corn Board Keith Alverson said:
"This 'new' study is just more of the same, tired arguments Big Oil have been using for years. They simply are not true. In fact, numerous studies by independent, unbiased third parties have come to vastly different conclusions.
The fact is, ethanol is a very efficient energy source. When calculating the amount of energy used to produce ethanol, from farm to pump, ethanol represents a 40 percent net energy gain. No other energy source comes close. Ethanol is also better for the environment: reducing greenhouse gas emissions by 110 million metric tons, the equivalent of taking 20 million vehicles off the road.
There is more than enough corn to meet all demands: food, fuel, feed, and fiber."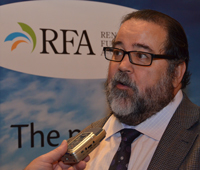 Bob Dinneen, the Renewable Fuels Association's president and CEO, said:
"Providing a cursory update of a failed theory is not science and does nothing to enlighten the debate about biofuels. For the better part of a decade, lawyer-activist Tim Searchinger has been promoting the flawed notion that increased biofuel use places unnecessary constraints on finite agricultural land resources. But, the "land use change" and "food vs. fuel" arguments are as wrong today as they were seven years ago when Searchinger first gained notoriety with his doomsday predictions…. In fact, Iowa State University's Center for Agricultural and Rural Development put this issue to bed last November, finding that '…the primary land use change response of the world's farmers in the last 10 years has been to use available land resources more efficiently rather than to expand the amount of land brought into production.'"
Tom Buis, CEO of Growth Energy, released the following statement:
"The World Resources Institute's latest report repackages old, previously debunked food and fuel, as well as Indirect Land Use Change (ILUC) myths in attempts to discredit an American success story, one that is producing both food and fuel, while also improving our environment. Slapping a new title on this previously discredited research won't change the facts—the American farmer is more than capable of producing an abundant amount of food, feed and fuel, and the air we breathe and our environment, as a whole, is better off for it."
Buis added that without biofuels, the U.S. actually "might be producing less, not more food, in order to control the expansion of surplus stocks and assistance payments to farmers." In addition, WRI fails to mention the last two record corn crops, falling corn prices, and co-products such as distiller's grains that displace the need for other livestock feed crops and reduce the net acreage used to produce ethanol.