Mechanics in Kansas had the opportunity to learn about NASCAR first hand when they attended the Hollywood Casino 400 NASCAR Sprint Cup Race on Sunday, October 5, 2014 at the Kansas Speedway hosted by the Kansas Corn Commission. The Commission has been a part of the American Ethanol partnership with Growth Energy, National Corn Growers Association and several state corn associations since 2011.
"All NASCAR race vehicles have raced on E15, 15 percent ethanol fuel since the 2011–that's over 6 million miles of racing on E15," said Kansas Corn Commission CEO Greg Krissek. "This race was a great opportunity to help mechanics see firsthand how high performance ethanol works in NASCAR race vehicles."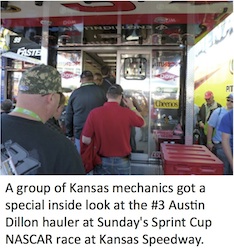 Austin Dillon, who drove the #3 American Ethanol car spoke to the group and answered questions before the race. Dillon is the American Ethanol spokesman. He drives for the Richard Childress Racing team and is one of the top rookie drivers in the Sprint Series. The Kansas mechanics spoke with Dillon and were treated to a tour of the garage and pit areas and walked through the RCR team's American Ethanol hauler before going to their seats for the race. The RCR team drivers, Dillon, Ryan Newman and Paul Menard all had top ten finishes Sunday. Newman had a sixth place finish and Menard was ninth.
"It was a good day for everyone on the No. 3 team," Dillon said. "I'm happy that we could get a top-10 finish for American Ethanol, Dow, Cheerios, Bass Pro Shops, and everyone associated with Richard Childress Racing. We're working hard and learning a lot. It was a good day and I'm excited for Charlotte Motor Speedway next week and finishing the rest of the season out strong."
The American Ethanol group brought about 400 fans to the race on Sunday. The fans included farmers, ethanol producers and industry partners.
"Austin and Richard Childress are both fantastic spokesmen for American Ethanol and are true believers in the high performance qualities of ethanol blended fuel. They were excited to have the mechanics come through their garage Sunday," added Krissek. "The mechanics in our group asked very good questions about the fuel and the NASCAR engines. They learned that ethanol blends work just fine in NASCAR race cars as well as the cars and trucks they work on every day."