"Yes this is hard, but there should be no question that the United States of America is stepping up to the plate. We recognize our role in creating this problem, we embrace our responsibility to combat it. We will do our part," said U.S. President Barack Obama during the 2014 United Nations Climate Summit that is taking place this week in New York.
During his speech he pledged to put forth a proposal to continue combating climate change beyond 2020 as well as committed to addressing the serious and growing impacts of climate change that the poorest and most vulnerable around the world are already facing. In addition, he took responsibility for America's role in climate change.
"As I sat in the audience today, I heard President Obama demonstrate the kind of climate leadership the world needs. He made it clear the U.S. is serious about fighting climate change through major cuts to our carbon pollution and other greenhouse gas emissions," said Frances Beinecke, president of the Natural Resources Defense Council (NRCD) after the speech. "He promised to help communities around the world become more resilient and speed their development of clean energy. And he challenged other nations to step up their climate actions by promising a commitment to our own. This was a message of hope — hope that together we can head off the worst damages from climate change and leave our children a healthier world."
Jennifer Morgan, director, Climate and Energy Programs for the World Resources Institute welcomed the President Obama's clear focus and personal commitment. "I am encouraged by President Obama's promise to put forth an ambitious post-2020 climate commitment early next year. Strong signals that the United States is decarbonizing its economy will set the stage for a successful outcome at the climate negotiations next year. As growing evidence shows, investing in a low-carbon economy creates jobs, reduces air pollution and improves people's lives. The United States now must build on the importance progress made in recent years."
It has been five years since the last climate summit in Copenhagen and the next summit will take place next year in Paris. Obama noted that scientists have learned a great deal more about climate change in the past few years and that they will continue to learn more. He also stressed that climate change is happening and action will mean survival.
"As the President made clear, we don't have the luxury to act as though climate change isn't happening," continued Morgan. "For the most vulnerable communities, taking action now is a matter of survival. The good news is that we have the technology and techniques in hand to both shift to the low carbon economy and build resilience to climate impacts. President Obama's announcement today is a key step in putting those tools to use. Better and more information about climate impacts is one of our most powerful tools to combat climate change. The President has signaled his commitment to ensure everyone around the world has access to the data they need to anticipate and protect themselves from the consequences of global warming."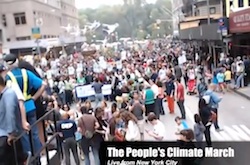 On Sunday, September 21, 2014 thousands of people descended on New York to participate in the People's Climate March and kick off climate talks. In reference to the event, President Obama said, "Our citizens keep marching. We cannot pretend we do not hear them." He also named climate disruption the "one issue that will define the contours of this century more dramatically than any other" while discussing global climate action generally.
Sierra Club Executive Director Michael Brune said in response to the comments, "On Sunday, a massive, diverse, and powerful movement for truly ambitious action on climate came together in the streets of New York, where we demanded our elected leaders hear our calls to action. Today at the United Nations, President Obama made it clear that he was listening.
"By affirming his commitment to setting ambitious emissions reduction targets early next year and firmly calling on other major global economies to do the same, the President is choosing to lead. That leadership must include seizing all the opportunities he has at home to act on climate. His goals and policies must be ambitious, but they must also align with what the best science says is necessary to avoid the worst consequences of climate disruption," concluded Brune."