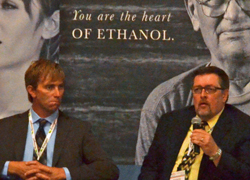 Two fuel retailers took the stage at the American Coalition for Ethanol conference last week in Minneapolis to talk about the trials and rewards of offering their customers a real choice at the pump.
Bruce Vollan (left) of Midway Service in Baltic, SD and Kent Satrang, CEO of Petro Serve USA in North Dakota, shared their stories of why they installed blender pumps at their locations.
"We're about seven years of having our blender pumps in place," said Vollan. "It was an ideal time for us to make a change as a small town business." And, he added, it has grown that business exponentially.
"We're a Farmers Union oil company," Satrang said. "We are owned by farmers, so they would like us to sell their fuel." Beyond that, he just wants to offer his customers a choice.
Both of them also talked about the costs involved in putting in the pumps and offering higher blends and what it has ultimately meant to their communities. Listen to their conversation here: ACE Retailer Roundtable