Recipients of the annual awards presented last week by the American Coalition for Ethanol (ACE) exemplified the organization's new theme of "Power by People."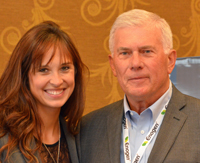 Gene Griffith of Patriot Renewable Fuels received the organization's Grassroots Award from ACE Director of Member and Industry Relations Lacy Dixon. Griffith was recognized for the many ways Patriot has promoted ethanol to the public, including an electronic sign on the highway near the plant in Annawan, Illinois that features revolving messages about the benefits of ethanol. They also have been very active on social media with Facebook and Twitter accounts.
"Producers also have to help educate the public, as well as the industry associations," said Griffith. Interview with Gene Griffith, Patriot Renewable Fuels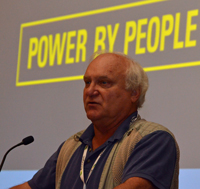 Recognized for excellence in journalism was Jerry Perkins, editor with Biofuels Journal. Perkins was Farm Editor with the Des Moines Register for more than 15 years and says there is no conflict between him being a journalist and his support of ethanol.
This year's Paul Dana Award went to Charlie Good, owner of the Good and Quick store in Nevada, Iowa. Good had a conflict and was unable to attend the ACE conference but I interviewed him in March at the ACE Fly-in where he told his story about deciding to offer higher blends at his store over his suppliers objections. "I had to de-brand because the oil company didn't want that under their canopy," said Good. "My sales are up 20-25% a month and of the gallons that they're up, virtually all of it is the ethanol fuels." Interview with Charlie Good, Iowa fuel retailer
As already noted, Rep. Collin Peterson (D-MN) received the Merle Anderson Award this year, presented by Merle himself. The Father of Ethanol was in rare form as he presented the award to his congressman, as you can hear all of in the audio file and see a portion in the video below. Merle Anderson Presents Award to Rep. Collin Peterson