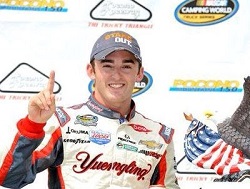 Ethanol-powered engines and sponsorship helped a young NASCAR driver to a recent win and could propel him to rookie of the year honor's in NASCAR's top division. According to the National Corn Growers Association (NCGA), American Ethanol spokesman Austin Dillon picked up a trophy at Pocono in the Camping World Truck Series this past weekend and has himself racing for a slot in NASCAR's Sprint Cup Championship.
The feat accomplished three things: it reminded people how the rising race star got to be the truck champion in 2010; the win in a Chevy truck ended Toyota's 12-race winning streak in the series; and it showcased American Ethanol, which was displayed on the side of his truck. Dillon scored his sixth career Truck Series win by surviving a green-white-checkered finish.
Ethanol supporters behind American Ethanol hitched a ride with Dillon three years ago as we he was just emerging as a household name in the sport. The move has proven to be a good one, with Dillon moving through the ranks of NASCAR's finest, first winning the truck series in 2010, capturing the intermediate Nationwide title last year, and now vying for Sprint Cup Rookie of the Year honors.
Some experts say this year's competition has been the best in a decade, as Dillon and fellow rookie Kyle Larson have been battling for one of the 16 spots in the race for the chase where the Sprint Cup Champion will be determined.