On Sunday, July 20, 2014 NASCAR drivers raced at the Brickyard in Indianapolis, Indiana and hit a historic milestone – 6 million miles raced using Sunoco Green E15. The feat was three years in the making and took place at one of the most famous racetracks in the world – Indianapolis Motor Speedway.
In 2011, NASCAR and American Ethanol partnered to bring E15 to the sport. Since the beginning of the 2011 season, Sunoco Green E15 has fueled every car and every truck in each of NASCAR's national race series. According to NASCAR, the introduction of Sunoco Green E15 has been a pivotal part of the NASCAR Green initiative, and has successfully increased horsepower and decreased emissions for the sport.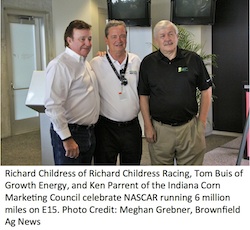 Brian France, CEO of NASCAR, released a statement in response to the 6 million mile-milestone saying, "NASCAR conducted an exhaustive analysis before making the seamless transition to Sunoco Green E15, a race fuel blended with 15 percent American Ethanol. As we eclipse six million tough competition miles across our three national series, we can definitively say this renewable fuel stands up to our rigorous racing conditions while significantly reducing our impact on the environment. We are proud to celebrate this milestone at Indianapolis Motor Speedway along with our partners at the National Corn Growers Association and Growth Energy."
The 6 million mile-mark is especially significant because it mirrors the 6 million miles of testing conducted by the U.S. Department of Energy to initially approve E15 for all light duty cars and trucks, model year 2001 and newer.
"NASCAR validates what a great performance fuel [E15] is, said Tom Buis, CEO of Growth Energy. "If you meet with the teams and talk with the owners – they've got increased horse power, they've got higher performance, and, as Richard [Childress] said, it's cleaner."
Through NASCAR, Buis said American Ethanol has proven that E15 is a high performance, low cost fuel option that is homegrown and better for our environment. It supports American jobs that will never be outsourced, bolsters rural economies and enhances our nation's energy and national security.
Listen to the press conference here: NASCAR Races 6 Million Miles on E15
*Special thanks to Meghan Grebner with Brownfield Ag News for providing audio and photo from the press conference.