Members of the National Corn Growers Association (NCGA) meeting in Washington DC were able to share their concerns about the delayed rule on 2014 volume obligations under the Renewable Fuel Standard with EPA Deputy Administrator Bob Perciasepe.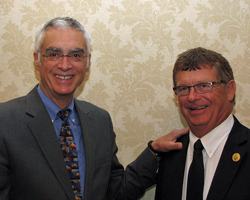 "The number needs to be out, it's really ridiculous," said NCGA president Martin Barbre, pictured here on the right with Perciasepe. "He said 'we're behind time frame' and we had some delegates stand up and say 'you're not behind time frame, you're way late.'" The final rule was expected by the end of June but EPA officials say it is being delayed because of the massive volume of comments that need to be studied in order to make a decision.
Barbre says while they appreciate the fact that EPA is taking the time to make sure they make the right decision, delaying it until almost the end of the year causes problems in the market. "Sort of what has created this issue with RINS and that run up in the RINS price is the lateness of the oil companies getting the numbers," said Barbre. "They're supposed to have these number in the spring, they get them in the fall, and by the end of the year they have got to have met their obligations. So it puts them in somewhat of a bind."
"We're not usually on the side of defending the oil companies, but in this case they just need to get the numbers faster so they can get themselves where they need to be," Barbre added.
Listen to Barbre's comments here: Interview with NCGA president Martin Barbre