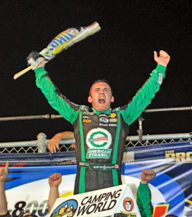 American Ethanol will be in the spotlight today as driver Austin Dillon will be defending his crown at Eldora Speedway for NASCAR's Mudsummer Classic World Truck series race in Ohio.
Last year, Dillon won the historic race driving his American Ethanol branded truck, his first truck race since winning NASCAR's Camping World Truck Series championship in 2011.
"Eldora is always an exciting race for NASCAR fans, but it is an exciting opportunity for corn farmers too," said National Corn Growers Association (NCGA) NASCAR Advisory Committee Chair Jon Holzfaster. "With American Ethanol spokesman Austin Dillon firmly in the spotlight, Eldora provides a great platform to get our message about the environmental and economic benefits ethanol offers all Americans to a broader audience. The buzz continues to grow. Ethanol helps clean our air, improve our economic independence and benefits American consumers and farmers alike."
American Ethanol is a partnership of Growth Energy and the National Corn Growers Association.