Ethanol and the Renewable Fuel Standard (RFS) were big topics this week as members of the National Corn Growers Association met in Washington DC.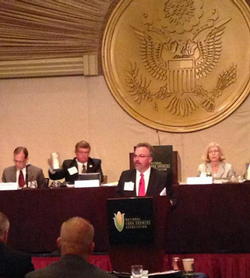 Michigan farmer Jeff Sandborn, chair of the Ethanol Committee, said they spent the week talking with administration officials and members of Congress after being updated on the issues. "Right now, Congress faces rapidly evolving issues crucial to our members. The information and understanding coming out of these meetings will help each of our delegations make the strongest case possible for farmers."
During the Ethanol Committee meeting, staff from the U.S. Environmental Protection Agency's Office of Transportation and Air Quality provided an update on the regulatory issues facing the ethanol industry. On Thursday, the entire NCGA delegation heard from EPA Deputy Administrator Bob Perciasepe about the status of the pending 2014 volume obligation rule under the RFS.
"We greatly appreciate the deputy administrator's willingness to participate in an open, well-considered conversation," said NCGA President Martin Barbre of Illinois. While Perciasepe mainly dealt with the proposed Waters of the United States rule, he also fielded questions from growers pertaining to both the reduction in volume, and the continued delays of final RFS rule.