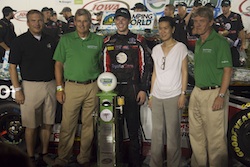 Erik Jones driver of the No. 51 Toyota Tundra for Kyle Busch Motorsports held off Brad Keselowski Racing's Ryan Blaney for the win of the NASCAR Camping World Truck Series American Ethanol 200 sponsored by Enogen.
Jones said during Victory Lane, "Glad we could get out and command the race and bring it home." Jones led 131 of the 200 laps dominating the 3/4 mile track and lapping several other drivers. This is his second NASCAR Camping World Truck Series win of the season.
Jones was given the award and congratulated for his win in Victory Lane by David Witherspoon, head of renewable fuels at Syngenta. All the drivers in the series compete with Sunoco's green E15 racing fuel – the same E15 blend of ethanol that consumers with cars manufactured after 2001 and newer can use. To date, NASCAR has raced more than 6 million miles with E15.

Visit the 2014 American Ethanol 200 presented by Enogen photo album.