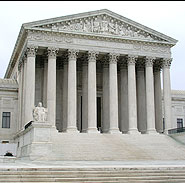 In the flurry of decisions by the Supreme Court released the morning, justices declined to review California's low-carbon fuel standard (LCFS) decision.
A federal trial judge ruled against the LCFS in 2011 but the Ninth U.S. Circuit Court of Appeals reversed that ruling last year and denied rehearing the case in January.
The Renewable Fuels Association (RFA) and Growth Energy issued a joint statement regarding the decision.
"We are extremely disappointed that the Supreme Court has declined to review the Ninth Circuit's decision, despite the broad support for the petition – including 21 states. We will continue our efforts to protect the American biofuel industry and the national interest and will continue to ensure that all consumers have access to low-priced, American-made biofuels."
The ethanol industry was joined in challenging the California law by the American Fuel & Petrochemical Manufacturers (AFPM). "The Supreme Court's decision not to review this case is disappointing and leaves in place a state regulation that discriminates against fuels and other products produced outside of California," said AFPM General Counsel Richard Moskowitz. "California's efforts to dictate how fuel is produced outside of its borders ignores Constitutional safeguards that have long protected against one state controlling the conduct of private parties beyond their borders."