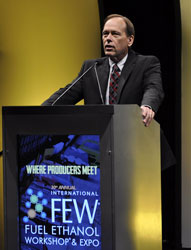 National Corn Growers Association CEO Rick Tolman took the podium to address the general session at the Fuel Ethanol Workshop in Indianapolis this week. It's the 30th year for the workshop and during his remarks he commented on how things have changed in the past 30 years – from the acres of corn planted and bushels harvested to the gallons of ethanol produced and where things are headed in the future of the industry.
"It's so exciting to see the tremendous growth the industry has made," said Tolman. "We have so many ethanol plants now and it's part of the mainstream, it's in almost every gallon of gasoline across the country … and ten years ago that wasn't the case … we've made tremendous progress."
In an interview after his address at FEW, Tolman talked about this year's corn crop, which is expected to be another record. Emergence pushed past the five-year average last week, according to the latest USDA report, and 75 percent of all acres are rated in good to excellent condition as of June 8.
Tolman says while we have planted a few less acres this year we continue to push through the 10-million bushel barrier that was so difficult to reach early in his 14-year tenure as NCGA CEO. He will be stepping down from that position at the end of September. Interview with NCGA CEO Rick Tolman