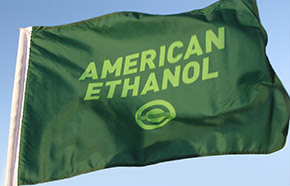 The roar of NASCAR comes back to the Gateway Arch as our friends at American Ethanol are announced as the NASCAR Camping World Truck Series "Drivin' for Linemen 200" official presenting sponsor. The National Corn Growers Association (NCGA), which partnered with Growth Energy to form American Ethanol, says it's NASCAR's first visit to the St. Louis area since the 2010 racing season.
"We're pleased to bring the farmers behind American Ethanol to Gateway Motorsports Park here in the heart of America's corn country," said Larry Hasheider, Okawville, Illinois, farmer and chairman of the Illinois Corn Marketing Board. "This race provides a great way to remind race fans that they have a choice in fuel with more retailers offering higher ethanol blends like E15 and E85."
"NASCAR has driven more than 5.5 million miles on E15 and we hope that fans will make the connection that they can also choose E15 or another flex-fuel ethanol blend, like E85 for their own cars. It's good for the environment, performs well, and saves money at the pump," Hasheider added.
"The enthusiasm for professional motorsports in the St. Louis region is greater than anyone could have ever imagined," said Gateway Motorsports Park Owner and President Curtis Francois. "American Ethanol understands the power of this energy to the relevance of this community. We are working hard to build a coalition of support among the civic and business leaders in the region so that when we talk to major sanctioning bodies like NASCAR, we can unequivocally demonstrate that we have complete community support. We are grateful for their partnership."
The "Drivin' for Linemen 200" NASCAR Camping World Truck Series event will be held over the Father's Day weekend next month and broadcast in primetime on Fox Sports 1.