Lockheed Martin and the American Council On Renewable Energy (ACORE) have formed a partnership to promote renewable energy education through a sponsorship with NASCAR Green, the sustainability arm of the National Association for Stock Car Auto Racing, Inc.
"At Lockheed Martin, we've been committed to providing innovative energy solutions for decades and we are thrilled to now work alongside ACORE and NASCAR to educate and inspire fans to go green," said Frank Armijo, vice president of energy solutions at Lockheed Martin. "By helping fans learn more about renewable energy, we can help build a strong, sustainable future."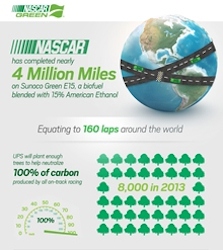 The goal of the sponsorship is to promote careers in the renewable energy community by highlighting the life-long value of studying science, technology, engineering and math (STEM) in order to build a strong, secure, economically viable and sustainable future. "This is the perfect vehicle for encouraging and engaging young people and lifelong learners to find careers in STEM using renewable energy as their focus," said ACORE President and CEO, Michael Brower. "A mirror of America, NASCAR fans thrive on the initiative, innovation and determination of their favorite NASCAR drivers and teams. And our renewable energy industry equally mirrors America with our dramatic successes building the new energy infrastructure and bringing down costs in an amazingly short time."
ACORE and Lockheed Martin will provide educational materials on renewable energy, sustainability and energy security at three NASCAR races in 2014, showcasing various renewable energy technologies and surveying NASCAR fans on their knowledge of renewable energy. The green messages will include technology features of ACORE members including solar panels, biofuels and wind turbines.
"With the educational components of this partnership, ACORE will help to ensure our nation's youth are equipped to become the next generation of American renewable energy innovators, inventors and industry builders, well-prepared and fully able to create a more prosperous American future built on clean, renewable energy," said Brower.
In other news, the partners will also target college-aged students for summer fellowship programs for students interested in pursuing a career in alternative energy, renewable energy or energy efficiency. The fellowships were announced during the USA Science and Engineering Festival and begin in the summer of 2015.