Midtex Oil, L.P. is now offering E85 at its Spirit-branded convenience store located in San Marcos, Texas. Its fifth E85 station in the state, it is located off the interstate at 1214 IH-35 South, San Marcos, TX 78666.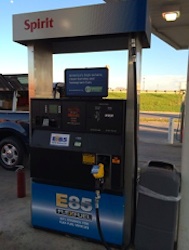 "Our local drivers are savvy enough to know the benefits of E85 fuel," said Rodney Fischer, owner, Midtex Oil. "When we put up that E85 sign, we usually don't even need to advertise about ethanol. It speaks for itself. This is one of several eco initiatives we have at Midtex."
According to Midtex Oil, by offering this blend of 85 percent ethanol, 15 percent gasoline, these E85 stations will help the area reduce emissions, lower dependence on foreign oil and spur domestic economic growth.
"We have a longstanding benefit from Midtex's bullishness on giving their customers more choice in fuels, that also happen to be better for the environment," said Steve Walk, an Executive Director of Protec Fuel who worked with MidTex Oil to install the E85 pump. "This E85 station is instrumental in the greater Austin and San Antonio area to provide the building blocks for additional higher ethanol blends, like up-and-coming E15." Protec also did a complete dispenser island renovation at this Spirit.
San Marcos, San Antonio, New Braunfels, Kyle and Austin are all also home to other E85 stations as well, making it very convenient for Flex-fuel (FFV) drivers utilizing E85 to fuel up.
"The Lone Star Clean Fuels Alliance and its stakeholders are pleased to see more E85 available in the region," added Stacy Neef, Exec. Director of the Austin-based Clean Cities coalition. "The choice of E85 provides a large proportion of vehicles on the road today the ability to choose an alternative fuel at the pump, since half the new U.S.-produced cars can use E85."