Just in time to celebrate Earth Week, Protec Fuel Management, a turnkey E85 ethanol company specializing in station conversions and fuel distribution nationwide, has a new web site.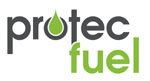 The site features a new logo and look, social media links, and a press page, just to name a few. E85 fuel can run in gasoline flex-fuel vehicles (FFVs), is better for the environment and supports our U.S. and local economies.
ProtecFuel.com differentiates between how it can serve fuel retailers, fleets and distributors, as well as showcases the.risk management side of its business and its management team. It also coordinates its new, green-colored logo with the site.
Protec Fuel, based in Florida, manages E85 installations and provides fuel for convenience stores and other companies' greener burning fuel offerings. E85 is a blend of 85 percent ethanol and 15 percent gasoline.
"We are pleased to offer an updated web site to our customers and those interested in the E85 industry this Earth Day week," said Todd Garner, CEO of Protec Fuel. "We hope that people look into ways to become more Earth-friendly this week, and our Web site is now more accessible to all."