The Iowa State Senate has voted unanimously (48-0) to pass Senate File 2344. The Iowa Renewable Fuels Association (IRFA) commended the Senate and noted the policy move showed tremendous, bipartisan support for renewable fuels.
"I applaud the Iowa Senate for voting unanimously to protect Iowa jobs and access to homegrown, clean-burning renewable fuels," said IRFA Policy Director Grant Menke. "This vote sends a clear message that Iowans are serious about increasing renewable fuels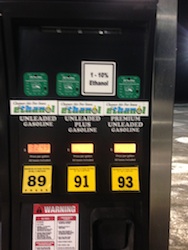 production and use, expanding consumer fuel choice and growing Iowa's economy."
With renewable fuels producers facing significant federal policy uncertainty, Senate File 2344 protects Iowa's renewable fuels industry by extending the state's biodiesel production tax credit that is set to expire at the end of this year, and enhancing the state's E15 retailer tax credit to help alleviate extra costs to Iowa retailers who want to offer E15 as a registered fuel during the summer driving season. The bill also updates Iowa Code to define biobutanol as a legal renewable fuel option for Iowans.
Iowa's biodiesel producer incentive offers a $.02 per gallon refundable credit on the first 25 million gallons of biodiesel produced in any single plant. The incentive is set to expire at the end of calendar year 2014, but the legislation passed by the senate would extend the credit through 2019.
An amendment added to the bill would also extend an Iowa retailer credit of 4.5 cents per gallon for 5 percent biodiesel (B5) through 2019. It was set to expire in 2017. The amendment also extends retailer tax credits for biodiesel, E15 and E85.
The Iowa Biodiesel Board (IBB) commended the vote. "This state policy will encourage biodiesel production to remain in Iowa, which benefits Iowa's economy and reputation as an American energy producer," said Grant Kimberley, executive director of IBB. "It will also help shelter our state's biodiesel industry from the impact of uncertainty over the federal Renewable Fuel Standard and other federal policies."