National Corn Growers Association
(NCGA) celebrated the long and productive career of an ethanol advocate and industry leader during the recent Commodity Classic.
Jere White is retiring from the Kansas Corn Growers after leading that organization for a quarter of a century and was presented with the Meritorious Service Award from NCGA. He has been a strong supporter of the ethanol industry during that time and his son Robert is Director of Market Development for the Renewable Fuels Association (RFA).
An avid motorcyclist, White had a serious accident in September 2012, and while he has made a remarkable recovery from critical injuries, he recently decided it was time to pass the reins of the association on to someone else.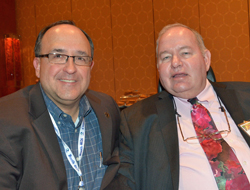 The new Kansas Corn CEO, pictured here with Jere, is Greg Krissek – also a long-time ethanol advocate and industry leader. In his career, Greg has served as Assistant Secretary at the Kansas Department of Agriculture; Director of Operations at Kansas Corn and Kansas Grain Sorghum; Director of Government Affairs for ICM Inc. and, most recently was a manager at Kennedy and Coe, LLC. He has also served on many ethanol and agricultural association boards and on seven ethanol plant boards of directors.

2014 Commodity Classic Photos

The