An informal survey of gasoline retail locations in greater Des Moines, Iowa, revealed that while 87-octane gasoline prices remain relatively uniform across several retail brands, the price a consumer pays for premium gasoline varies greatly depending on whether the retailer blends its premium gasoline with ethanol. The Iowa Renewable Fuels Association (IRFA) reports that using premium gasoline blended with E10 (10 percent ethanol) can save up to 25 cents.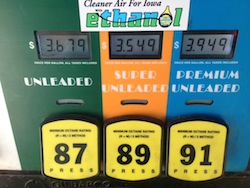 IRFA says the savings of ethanol are so great that consumers can pay approximately the same price for E10 premium gasoline as they would for 87 octane gasoline with no ethanol.
"Here at the IRFA, we support consumer fuel choice, and consumers can save 25 cents per gallon by shopping at retail locations that offer premium blended with 10 percent ethanol," said IRFA Executive Director Monte Shaw. "Fuel blended with 10 percent ethanol is approved for use in all cars, trucks and off-road motors available today, and vehicles that carry a recommendation for premium gasoline use are no different. By simply shopping for ethanol blended premium gasoline, consumers can save a lot of money while supporting Iowa's economy."
Speaking of E10, the Iowa Department of Revenue published January data for gasoline use and IRFA said that Iowa motorists saved more than $23 million in January by filling up with E10 – 103 million gallons of E10.
Shaw noted, "Priced at least 23 cents less than its 87-octane no ethanol counterpart, E10 is providing Iowans with huge savings. And those savings add up for both consumers and Iowa's economy. The use of E10 is keeping at least $23 million in Iowa instead of sending it out of state or out of the country for petroleum. In fact, the true savings is likely more than $30 million for the month. Simply using ethanol is not only saving consumers some of their hard earned money, it's also cleaning up our air and supporting Iowa jobs."
According to IRFA, actual savings are even greater than $23 million because the Iowa Department of Revenue data does not account for ethanol blending that occurs outside of pipeline fuel terminals. In addition, while the typical E10 savings in the Des Moines metro area is 23 cents per gallon, E10 is priced at a more than 30-cent discount to E0 in many parts of Iowa.