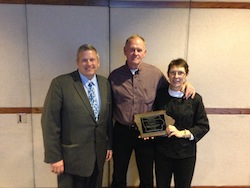 This years Biodiesel and Ethanol Marketing Awards went to Russ and Barb Danielsen from Southern Iowa Oil and Jason Stauffer from STAR Energy. The 2014 winners were announced by Iowa Secretary of Agriculture Bill Northey.
"Both winners have gone to great lengths to make biodiesel and ethanol more available to Iowa drivers and I appreciate the effort and investment they have made to promote these home-grown fuels," Northey said. "Iowa is fortunate many retailers like STAR Energy and Southern Iowa Oil that make it a priority to make the fuels we produce in this state available to customers."
The Secretary's Ethanol and Biodiesel Marketing Awards were designed to recognize businesses that market the renewable fuels they have available through creative efforts including, but not limited to: hosting special events highlighting their renewable fuels, development of creative signage, initiation of new advertisements or marketing efforts, and dramatically increase renewable fuel availability.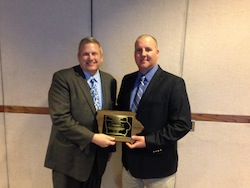 The winners were announced and recognized during the Petroleum Marketers & Convenience Stores of Iowa Annual Meeting in Des Moines, Iowa on January 14, 2014.  The Petroleum Marketers and Convenience Stores of Iowa (PMCI) is a non-profit state trade association serving the needs of independent petroleum marketers and convenience store owners throughout the state of Iowa.
Russ and Barb Danielsen own Southern Iowa Oil and are the winners of the 2014 Secretary's Biodiesel Marketing Award winner.  Southern Iowa Oil is a family business serving the surrounding areas of Albia and Centerville and they have their own retail locations in Chariton, and Corydon.
The Danielsen's are long-time supporters of the renewable fuels industry and have made it a priority to offer biodiesel options to all of their customers.  Their retail locations proudly sell biodiesel blends and work to promote this home-grown environmentally friendly fuel.
Jason Stauffer, Manager of Retail Fuels Marketing and Business Development for STAR Energy in Manson, is the 2014 Secretary's Ethanol Marketing Award winner.  STAR Energy provides customers with a variety of renewable fuel options and is committed to the biofuels industry.
STAR Energy's Fort Dodge location began offering E15 to customers in December and also offers E20, E30 and E85 fuel options to customers. Jason has been instrumental in the establishment and promotion of this site and making additional renewable fuels available to customers.