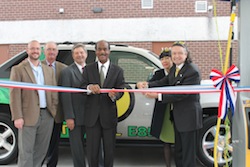 Mid-Atlantic Petroleum Properties (MAPP) has opened a new E85 FlexFuel fueling station for drivers of flex fuel vehicles located at the Potomac SUNOCO in the Cabin John Shopping Center off of Seven Locks Road in Maryland. The opening was celebrated with a ribbon cutting, a retailer's workshop, and speeches by partners and elected officials. MAPP offered E85 at the discounted price of $1.85 per gallon during the event. With the opening of the Potomac SUNOCO, there are now sixteen E85 (eighty-five percent ethanol, 15 percent gasoline) retailers in the greater metropolitan area.
MAPP now operates 11 stations offering E85 making them the largest E85 retailer in the Maryland-DC Metro Area. MAPP's Chairman and CEO Carlos Horcasitas said during the ribbon cutting event, "This station opening represents our continued commitment to E85-FlexFuel in the region." He believes, "E85 is better for our county and our customers. Ethanol provides customers with a valuable fuel choice that costs less and is a step forward toward a better environment." They plan on offering E85 at all of their 30 plus locations in the future.
Drew Stabler, Treasurer and Board Member of the Maryland Grain Producers Association and Montgomery County Grain farmer was in attendance. "It is exciting to see the continued expansion of stations offering E85 in Maryland," he said. "The Maryland Grain Producers believe that ethanol is a product beneficial to consumers, agriculture and the environment allowing us to reduce the cost of fuel, create alternative markets for grain, and run cleaner, more environmentally friendly gas in our vehicles. Maryland grain farmers are committed to expanding the production and use of ethanol."
Earl "Buddy" Hance, Secretary of the Maryland Department of Agriculture and a farmer himself, was also present. "Renewable energy is a prime opportunity to meet the nation's need for alternative fuels and the farmer's need for alternative markets. Renewable fuels have created an enormous new value-added market for farmers and help to reduce the nation's dependence on foreign oil. Ethanol is a key factor for Maryland to reach its goal of reducing State-wide greenhouse gas emissions 25 percent from 2006 levels by 2020," said Hance.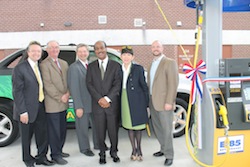 "Making the transition to clean, domestic, non-petroleum fuels gives consumers a better choice for both health and their pocketbook," added Douglas A. Durante, executive director of the Clean Fuels Development Coalition. "Ethanol expands fuel supplies and lowers gasoline costs to consumers. Using E85 and Flexible Fuel Vehicles is an opportunity for every citizen and every driver to take part in reversing our staggering dependence on imported oil and requires no change in driving habits, personal mobility, or comfort and safety. We encourage all drivers to see if their vehicle is among the millions than can use FlexFuels and also consider a Flex Fuel Vehicle for their next purchase."
Partners in the event included Mid-Atlantic Petroleum Properties, the Maryland Grain Producers Utilization Board, Sustainable Energy Strategies Inc., the Flex Fuel Awareness Campaign, Maryland Clean Cities, the Greater Washington Region Clean Cities Coalition, the Clean Fuels Development Coalition, Protect Fuels, Criswell Auto, the Renewable Products Marketing Group and Growth Energy.