Fuels America launched an educational program in Washington, D.C. this week to highlight the importance of the Renewable Fuel Standard (RFS). The program highlights the key benefits of the energy policy and includes messaging that carpets Metro stations most traveled by policymakers and their staff.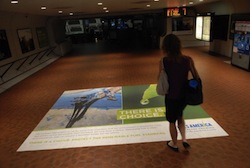 "The RFS is important not only for corn farmers but also for our nation as we move toward a more energy secure, environmentally sound future," said National Corn Growers Association (NGGA) President Pam Johnson, whose organization is a member of Fuels America. "When people understand the incredible alternative ethanol offers, they embrace it as a way to keep out-of-control gas prices in check while cleaning our air and reducing our dependence on foreign oil. Now, whether commuting to work or just heading across town, the precise people who influence our nation's energy policy will be confronted with the critical importance of preserving the RFS and our nation's energy future."
The RFS, says NCGA is founded on three principles: its good for the U.S. economy, it's good for our nation's energy security, and it's good for the environment.