A new online survey conducted by Harris Interactive finds that U.S. consumers are ill-prepared for the introduction of higher ethanol fuel blends such as E15. Commissioned by the Outdoor Power Equipment Institute (OPEI) the survey is misleading because E15 and higher blends of ethanol are not approved for any small engines, including boats and the ethanol industry has been very specific about this fact.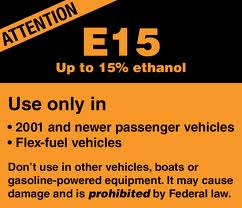 In a phone conversation with Micheal Frohlich, director of communications for Growth Energy, he notes that this attempt is misguided because the Environmental Protection Agency (EPA) only approved E15 for vehicles manufactured in 2001 or newer and other higher blends of ethanol are only approved for flex fuel vehicles. He said that the labeling required for E15 and higher blends was designed specifically as an education tool for consumers so they don't "mis-fuel". He also noted that to date, no retailer currently selling E15 has ever has a mis-fueling claim or fuel complaint regarding E15.
While OPEI acknowledges E15 is not approved for use with small engines, they couch the problem by saying because they will be sold next to E10 or E0 fuels, consumers aren't smart enough to choose the right, or "legal" fuel at the pump for their small engine.
Ron Lambery, a retail station owner and vice president of the American Coalition for Ethanol (ACE) notes, "Seventy-five percent of cars in the country are approved for E15 fuel. The fact that OPEI refers to that as 'a small, subset of automobiles' should tell you all you need to know about the accuracy of this report. This so-called 'small subset' will use nearly 100 times the fuel that could be used by all of the small engines in the United States combined."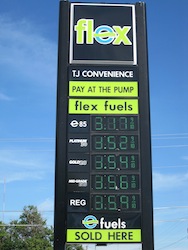 "Right there in the report, OPEI admits that one of the main reasons they think people will use E15 is because it will cost less than other gasoline," continued Lamberty. "So in other words OPEI thinks consumers should pay more at the pump for 99 percent of the gas sold in this country, because they believe that consumers aren't smart enough to read the blaze orange warning label that is required to be on every E15 pump, that says 'don't use in small engines.'"
The study was conducted on behalf of OPEI from July 31-August 2, 2013 surveyed 2,040 U.S. adults ages 18 and older about their fuel buying behavior and fuel awareness at gas stations.
Key Findings of Survey
The vast majority of Americans (71%) are "not at all sure" if it is illegal or legal to put high level ethanol gas (i.e., anything higher than 10 percent ethanol) into engines such as those in boats, mowers, chain saws, snow mobiles, generators and other engine products.
Nearly two-thirds (64%) of Americans say they assume that any gas sold at the gas station is safe for all of their cars, as well as boats, mowers, chain saws, snow mobiles, generators and other engine products.
For Americans who drive up to the fuel pump, price is overwhelmingly the number one thing they notice (91%). Whether the pump accepts credit cards (64%) and the octane rating (55%) come in second and third place.
Only a quarter (25%) of these Americans notices the ethanol content.
Seven-in-ten (71%) Americans say they use the least expensive grade of gasoline whenever possible.
"Obviously, the ethanol survey responses are troubling to the outdoor power equipment industry since our products are designed and warranted to run only on 10 percent or less ethanol blended fuel. The data shows us that consumers are unprepared for the rollout of higher ethanol blended fuels at today's gas stations and the potential for misfueling is high," said Kris Kiser, president and CEO of OPEI.
Bob Dinnneen, CEO and president of the Renewable Fuels Association (RFA) aptly pointed out, "It is not surprising Americans are unaware of E15 today. Only a handful of stations are offering it. We are very confident that EPA's labeling requirement provides consumers more than enough information to determine which engines are and are not approved for E15 use. In fact, after more than 14 months of E15 being available there have been zero reports of misfueling in pre-2001 vehicles, small engines, boats and other non-approved equipment. This is a testament to the sophistication and reading ability of the American consumers."