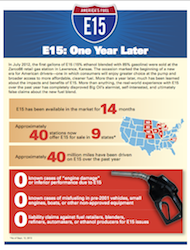 E15 is back. The summer volatility restrictions for E15 end on September 15, 2013 and the 15 percent ethanol blend will again be available to consumers with vehicles 2001 and newer. Due to EPA's disparate regulatory treatment of volatility for E15 and E10, retailers were forced to change their pump labels on June 1, 2013 and offer E15 to flex-fuel vehicles only or stop offering the product altogether.
Bob Dinneen, President and CEO of the Renewable Fuels Association (RFS), touted the reemergence of E15, "This is the beginning of what will be a great autumn of increased consumer choice. Compared to gasoline, E15 saves approximately 10-15 cents a gallon. That adds up to very real savings, at the pump and over the span of time."
E15 has been available in the marketplace since July 2012. In the past 14 months, E15 availability has expanded to approximately 40 stations in nine states. More than 40 million miles have been driven on E15 with no known cases of engine damage, misfueling, or liability claims.
While E15 is the most tested fuel in the marketplace, critics nonetheless continue to create issues desgined to scare consumers away from any alternative to oil.
Bobby Likis, an expert mechanic with over 40 years of award-winning auto service experience and host of the nationally syndicated radio auto show "Car Clinic," speaks about his personal experience with ethanol and auto engines in a new video. "The fact is, ethanol does not ruin engines. Of the 200,000 engines I've serviced, not one has been damaged by ethanol, not one. In fact, engines thrive on high octane and ethanol has it."
"After three months of waiting, retailers with compatible equipment can finally start offering E15 if allowed by their franchises," said Robert White, RFA director of market development. "Given the economy, current gas prices, new data on consumer demand and sales revenue generated by retailers who are presently offering E15, I think you will see interest increase dramatically."
"There are definite benefits for marketers who are ready to present consumers with a cost-saving, environmentally-friendly, domestic, renewable alternative fuel," added White. "E15 is truly a win-win-win for retailers, consumers, and the nation as a whole. Everyone benefits from increased availability of E15."