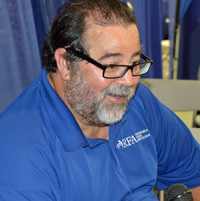 The attacks on the Renewable Fuel Standard (RFS) by the oil industry just keep coming and Renewable Fuels Association (RFA) president and CEO Bob Dinneen was at the 2013 Farm Progress Show this week to talk about the latest – a petition for a partial waiver submitted recently to EPA by the American Petroleum Institute (API) and American Fuel & Petrochemical Manufacturers (AFPM).

In this "Ethanol Report" interview, Dinneen talks about RFA's letter to EPA urging them to reject the waiver request. "API really doesn't have standing to even file a waiver because they're not an obligated party," he says.
Dinneen also talks about cellulosic ethanol production, RINS, and his reaction to Congressman John Shimkus (R-IL) considering legislative changes to the RFS.
Ethanol Report interview with Bob Dinneen: Ethanol Report on Latest RFS Attacks
Subscribe to "The Ethanol Report" with this link.