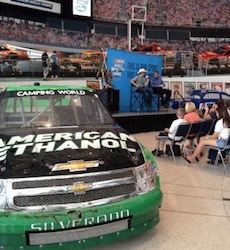 American Ethanol driver Austin Dillon unveiled a display at the NASCAR Hall of Fame to celebrate his win at the Mudsummer Classic held at the Eldora Speedway on July 25, 2013. The exhibit features a jar of dirt Dillon scooped up near the finish line with the Eldora golden shove, his winner's trophy and the No. 39 American Ethanol truck he drove to victory, becoming the first driver to win a NASCAR Camping World Truck Series race on dirt.
"Dillon's win in Eldora was not only a victory for the up-and-coming star, it was also a victory for American Ethanol," said National Corn Growers Association NASCAR Advisory Committee Chair Jon Holzfaster, a farmer from Paxton, Neb. "By making history in the American Ethanol truck, Dillon drew a bright spotlight to ethanol's ability to fuel victory even under the toughest of conditions. This attention is now compounded as NASCAR Hall of Fame visitors will clearly see how ethanol is not only a winner for NASCAR but for all Americans who want to drive using a high performance, lower emission fuel."
This was the first NASCAR series race held on a dirt track in 43 years, featuring a mix of NASCAR Sprint Cup racers, dirt track veterans and rising stars. Dillon pulled out the victory overcoming a 19th place start.
The race in Eldora was much anticipated by NASCAR fans eager to see the return to dirt, with the race trending worldwide on Twitter and a ratings boost for SPEED network's primetime coverage. SPEED's coverage, which prominently featured the American Ethanol logo throughout the race, included commentary from racing greats Tony Stewart, Brad Keselowski and Clint Bowyer.