There have been several polls conducted in the wake of President Obama's new plan to fight climate change. This week, a poll focused on small business owners shows that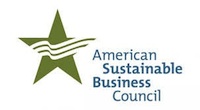 regardless of party affiliation, they support safe, cleaner, more efficient and renewable energy. The poll was commissioned by the American Sustainable Business Council (ASBC) and asked a range of energy and environment questions.
"Large majorities of small business owners want the country to develop energy that is clean and renewable," said Richard Eidlin, Director of Public Policy for ASBC. "Whether Republican, Democratic or Independent, they want the government to promote energy efficiency and clean technologies and they don't want our tax dollars to continue subsidizing coal, oil and gas."
The poll, conducted by Lake Research, gauged opinions on several policy issues currently under consideration in states and in Washington, DC. Of the business owners surveyed, 47 percent were Republicans, 27 percent Democrats and 14 percent Independents. Key findings from the survey included:
79% of small business owners support increasing energy efficiency by 50% over next ten years.
72% of small business owners think incentives for clean energy are a priority.
63% of small business owners support EPA efforts to limit carbon dioxide emissions of power plants.
62% of small business owners oppose continuing subsidies to oil, gas and coal companies.
63% of small business owners support a national renewable energy standard.
57% of small business owners want banks and other investors to include environmental benefits in business investment decisions.
80% of small business owners support requiring disclosure of chemicals used in hydraulic fracturing (fracking).
Confirming the poll results, Susan Labandibar, President of TechNetworks of Boston said, "Reducing the use of fossil fuels would benefit all businesses, but especially small businesses that are most affected by damage from severe weather. It makes sense that opinion polls would show that small businesses owners want the government to set and enforce standards for safer, cleaner energy sources. They understand that reducing fossil fuel pollution and boosting clean energy will help small businesses and assure economic stability over the long term."