The ethanol industry is no stranger to controversy. As Bob Dinneen, CEO and president of the Renewable Fuels Association (RFA) pointed out during a recent panel discussion on policy issues at the Fuel Ethanol Workshop (FEW), the industry has been in a battle for decades.
In a recent conversation I had with Dinneen, he noted that a lot of issues the ethanol industry faces are issues they have faced for decades. "Food versus fuel, nothing new there. We've been hearing it for a long time. Energy balance, nothing new. We've been hearing it for a long time," said Dinneen.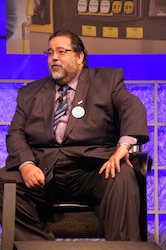 "The one new twist that you have on the Hill is that the RFS (Renewable Fuel Standard) itself is an anachronism today because we're producing more oil domestically. We've found this nirvana in North Dakota where we get all these tight oil supplies. And so since we're getting all this oil from North Dakota, we should stop producing ethanol from South Dakota. Well, I don't really think so."
Dinneen explained that members of Congress are interested in the industry's arguments about the impact on the consumer because all that North Dakota oil isn't helping to reduce the price of oil because those facilities, that production is not going to pencil out at ninety dollars a barrel.
"You need a high oil price to encourage those investments to continue," explained Dinneen. "So the only relief that consumers are going to have is if we continue to add supply with domestic renewable fuels that pencil out a lot lower than that."
Why the new twist to an old story now? Listen to my interview with Bob here to find out: A New Twist to an Old Story