American Ethanol will be on center stage at the Michigan NASCAR race this weekend including driver Austin Dillon behind the wheel of the #33 car in a cool black and green ethanol paintout.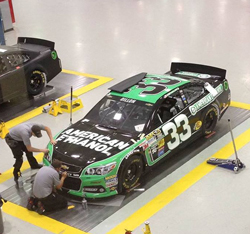 Dillon says the use of 15% ethanol blended fuel as a clean burning alternative has had great benefits for NASCAR racing. "If you look back on our history on performance and see how clean our engines burn, it's been an easy transition from our old fuel to American ethanol," he says. "Our engines run great and create horsepower each and every race and you don't have a fuel problem as far as running out of fuel and you can still run the long runs over a long period of time."
Dillon also uses ethanol in his everyday car because he believes it is helping to create a better, greener future for future generations. "The fuel speaks for itself, the way that it's enabling us to have cleaner burning fuel," he said. "To be able to go out and really perform well and still have a fuel that burns clean is awesome. I want my kids to be able to enjoy the same things that I have been able to enjoy with our country and I feel like moving to a green initiative like American ethanol is important for everyone."
As the grandson of racing legend Richard Childress, Dillon and his family have been involved in the racing business for generations and he says having American Ethanol as a sponsor has opened their eyes to the benefits of ethanol to the environment for the future.
The Sprint Cup series race will begin at 1:00 pm Eastern time on Sunday. American Ethanol partners include Growth Energy, National Corn Growers Association, and New Holland.